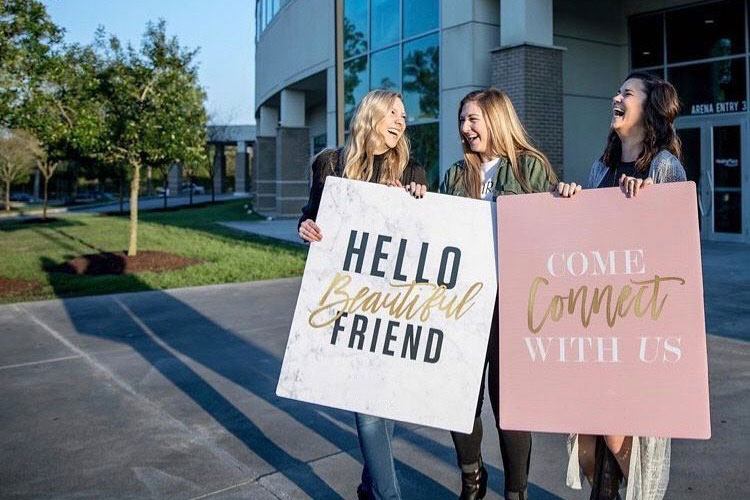 Successful Church Advertising Campaign Ideas
Research has shown that churches with an attendance of over 1,000 on Sunday have outreach in place. Some churches deploy outreach ministers or social media teams to do this.
The good news is that these kinds of church advertising methods are not your only options. Smaller churches struggle with church marketing if they have limited resources.
If this is the case for your church, church ad campaigns may be the best option. That and other marketing tactics are becoming popular for churches to gain members.
Keep reading to find out more about church advertising and what your options are.
Online Ads
One great advertising option you have is church ads. The best thing about this is that there are many types of ads to choose from that are useful in different ways.
The most common types of church ads are Google ads, which are found when people are on Google. This gives you the opportunity to have ads pop up when people are searching.
These ads are also customizable depending on style, audience, and budget. These ads generally have the greatest reach and most potential for conversions.
Although, Facebook ads also have a long reputation for being useful for churches. Many people who may be interested in your church can be found on their social media platforms.
You can edit the demographic so that your desired audience sees these ads in the local community. Twitter ads can also be useful if you believe this is where potential members are.
20% of US adults are on Twitter, so this could be a very useful way of doing outreach. You can also consider Instagram ads, as this is a very popular social media platform.
Keep in mind that you want your ads to reach locals if they are going to convert into church members.
Content
Another very useful way of using church advertising is to create content. If you have a church website, which you should, you should have a blog available.
A blog is just another section of your website where content can be posted for anyone to read. These may not seem useful at first but they can start to gain traction.
Written content can be used to create what is called SEO. This stands for search engine optimization, allowing people to find your posts when searching online.
For instance, someone may look up churches near me. This is a keyword and if you include this in a blog post, Google may lead them to your article.
The more blog posts you have on your website, the more keywords you are collecting. This is not going to provide instant results, but it can bring a lot of traffic to your website.
Once you have visitors on your website, they will be more likely to look at other pages. This also creates a great way to encourage engagement among the church members that you already have.
Landing Pages
Another important church advertising option for your website is landing pages. A landing page is something designed specifically for marketing when someone visits your site.
This is very important if you have a church ad strategy. These ads that you have are going to redirect people back to your church landing page.
These pages should be focused on what the visitor is looking for. If your ad recommended a church camp for the summer, you should have a summer camp landing page.
If you have ads for special classes that your church offers, you should have a landing page for the service. Depending on your ads, you may need to have up to 5 or 10 landing pages.
Social Media Presence
Social media is a type of church marketing that all churches should utilize. Marketing for churches can feel overwhelming and limiting when you look at your options.
After all, there aren't any marketing sources specifically designed for churches. But social media is something that can have a great impact in this area.
You should have social media accounts on all of the top platforms. This includes Facebook, Instagram, Twitter, and any others you think would be useful.
You should also have someone in your church designated to run these accounts. The thing about social media is that you have to engage regularly for it to be effective.
You should share social media posts daily, including linking to your website. This is part of the benefit of having blog posts since you can share these on your social media.
You can also encourage your church members to interact with these accounts to create more engagement.
Use an Email List
When you have a church website, you are able to create an email list. This usually comes in the form of a pop-up that shows up on the screen when a visitor is on the site.
They have the option of adding their email and name so that they become part of the email list. This allows you to send out emails and announcements even if they don't go to your church.
This is already a very useful option for your church members as a reminder about things coming up. But it is also useful, if you want to turn visitors into church members.
People may be interested in your church but aren't necessarily committed yet. Receiving monthly or weekly emails can slowly encourage them to visit your church just to see what it's like.
Keep in mind that you need it to avoid spamming people with unnecessary emails. This is annoying and will often result in them unsubscribing from your email list.
Newspaper Ads
Online marketing may be the most effective nowadays, but it isn't the only option. Having ads placed in local newspapers is also a great way to reach out to the community.
All kinds of newspapers have sections where you can pay to have an ad placed. This is a great option if you are hosting a church event, a camp, or classes that people can join.
you can also look into local newspapers that have a digital version. Local magazines may also be a good option if they are willing to feature your church.
Most magazines don't sell ad placements but if they are religious-based, they may dedicate a page to you. This can be a great way to catch the attention of locals looking for a new church.
Radio Ads
Another effective church advertising option is to get radio ads. A large percentage of people enjoy listening to the radio when they are driving to and from work.
Most local radio stations allow people to buy a section of time to place an ad. You can purchase a slot of time and record an ad about your church or something it has to offer.
This is also a more personal approach to advertising that allows you to speak directly to the listener. This is a great way to reach out to your local community and reach a broader audience.
TV Ads
Another ad option is to contact local stations and TV companies. You may be able to contact streaming services as well if they are ad supported.
You can usually buy a 15 to 30-second add slot time to showcase your church. Keep in mind that you will need to produce the ad yourself so that it is high-quality and authentic.
You may need to hire someone to help you do this so that the ad is appealing. Although this may take more time and money, it is a personal touch that no other ad is going to have.
This is the perfect opportunity to showcase your church and everything that it has to offer. It also gives people a face to place with the church, making them feel more comfortable.
Community Engagement
One great option for marketing for churches is community outreach and engagement. You can do this by planning events or hosting a local charity.
Some churches with limited resources do this by serving food in a park or local gathering area. This allows church members to interact with the community and discuss what the church is like.
Keep in mind that even small gatherings and events may require authorization. Depending on the area, you may not be able to do this without getting permission or paying a fee.
Working with local charities to help those in need is also a great way of marketing your church. Churches are closely connected with charity, and this is a great way to help the community.
You can also host special events that people can attend. This can be anything from a holiday event, a church choir, or a special dinner for veterans.
The options are endless, and you do not need a very big budget to market in this way.
Website Design
It isn't enough to only have a website for your church. A church ad strategy requires your website to have a good design that keeps people interested.
You want the website to look professional and to have website security, so visitors feel safe. The designer should feel welcoming and simple with easy navigation to where they want to go.
You should brand your website with anything that distinguishes your church. This could be the name of your church, the logo, or specific colors and patterns.
A high-quality website should have multiple pages that people can go to. This includes a contact page, an about page, and multiple landing pages.
You should have professional photographs available that they can look through. When people see the church and the people that go there, this will make them feel more comfortable going themselves.
Pamphlets
An old-fashioned type of church advertising is going to be pamphlets. Even though this is an older way of marketing, churches still find pamphlets to be useful in getting visitors.
You can design eye-catching pamphlets and hand them out to people who you think would like to attend. These should include high-quality graphics and information regarding the church.
If these pamphlets are for a special event, the details should be included. Remember to include dates and times so that people know when to visit the church.
You can also create digital pamphlet designs that can be shared across your social media platforms. You can also include these digital options and emails if you have an email list.
Banners
Another old-fashioned way of advertising is using banners. These are still great options if you have places where you can legally set them up.
Some businesses or properties may allow you to do this so that drivers can see the banner as they go by. This can announce church events or simply give times when services are held.
You will need to invest in purchasing high-quality banners with a good design. They should be weatherproof and eye-catching so that they don't go unnoticed.
Make sure you always get permission before setting them up to avoid any legal issues. They should also not be anywhere where they will cause a distraction to drivers.
The Best Church Advertising Options
If you are looking into church advertising, you may not know where to start. Church ad campaigns can be overwhelming, especially when you have so many options.
The good news is there are several realistic options you can add to your strategy. It is best to have different advertising sources to reach the most people.
Do you need help with your digital marketing campaign for your church? Contact us today at The Elements Group for website and digital marketing services for churches.