A strategic marketing agency
We are passionate about helping Churches, Non-Profits and Small Businesses reach their growth potential.
We absolutely love seeing a company grow, thrive, and become a powerful presence in their city. Our privilege is to be a part of your growth, help make your nets wider and stronger, and resource you with the tools you need to impact your target audience.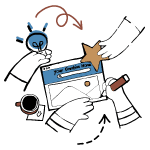 Our knowledge
is your success
For over 20 years, we have had the privilege to work with some incredible Churches, Non-Profits & Small Businesses to help them optimize their organizational and marketing processes to achieve long-term growth. Let us leverage these time-tested strategies and our incredible in-house creative talent to help you grow!
Whether it's through Strategic Coaching, Graphic Design, Websites, or Digital Marketing (or all of the above!), we would be thrilled to be a part of your future growth and to see what can be accomplished in your organization. We also have a passion for helping launch church plants, and have over 20 years of personal experience!